4 December 2012: Destruction Day
Every so often we spend the day taking things apart to see how the pros build things.  We've collected phones, cameras, PDAs, and some other old electronics to see what's inside. The junk we get is too broken to be repaired economically so we learn from it. We know we can't fix this stuff but we respect it because it has given it's life for us to learn… Mr....
27 November 2012: Fall 2012 Submarine Project...
The Fall 2012 Submarine Project is a success! Today we put the final touches on the submarine and then took it into the pool for the maiden voyage. Everything worked as planned.  The battery supplied enough power for the motors to really scoot this submarine along.  Pitch and yaw were easily controlled by the three motors.
20 & 24 November 2012:
The pressure is on to get the submarine finished before we return to the States for Home Assignment. Tuesday we did the second wet-test with an o-ring that I was finally able to find in town.  The o-ring is a bit smaller than I had envisioned but it seems to work OK.  We were able to weight test the submarine and cut some steel to balance and trim it. Back in the lab we got the electronics put...
A missed post from October 2012:
The guys came over to show off their performance helms and say "thanks." Very nice of them…
13 November 2012:
We did it!!! The electronics are done.  We failed the wet test with a few leaks but we know where we want to go with that.  We need an o-ring to make the final seal.  All the other joints were watertight. Taping the brass access plate - this is what didn't seal and will need the o-ring. Screwing on the brass access plate.  This is the stern of the submarine.  The empty tube section is...
6 November 2012:
What a great day we had today.  Great feedback on how the club is meeting needs of this group of people.  One person said with a big grin on his face, "this sure is a strange group of people."  I interpret this to mean that we've come together and have established a safe place for people to be themselves.  After our time together I met one of the parents in the parking lot who...
30 October 2012:
School break and travels are over and we're back to work. Today was the first chance to get back to making the underwater ROV.  As you can see we've setup with a 6 inch PVC pipe "T" with an extension.  Richie is attaching the motor mounts with a spot of hot glue then the local version of silicone Liquid Nails.  After the silicone cures the assembly will receive a sealed plexiglas front and...
2 October 2012:
Still no camera of my own… We continue to work on kits and are starting to see a couple finishing up – some successfully, some partially, some not quite… Erica's kit is the most fun.  It is a remote control switch where you can preset the ON/OFF state of 5 devices and then toggle those states with a remote control unit.  I'll bet there is a way to control every device independently but...
18 September 2012:
My camera died.  No photos of the week's work so only a narrative account… Adrian Oliver, a friend and fellow (software) engineer, has committed to help out in the club when he is available.  Adrian is the man behind PocketWeather (http://www.sbsh.net/weather-forecast-pocketweather).  We're proud to know him and his experience and passion is a great addition to the club! Push forward on the kits. ...
15 August 2012 - Grace International School...
A quick retro post from before the international school year started… Each year as the new students come in there is an opportunity to "sell" the extracurricular activities. It's always fun to see the excitement of the new kids and the anticipation of those just a bit too young for our club.  I demonstrated last year ROV, a bunch of photos, and one of the "useless machines"...
11 September 2012:
We're in full swing… The school may give us some leftover 6 inch PVC pipe segments for our submarine body. Kits are going well and we're exercising our soldering muscles.  We've had a couple good real-life lessons only learned by making mistakes and correcting them.  "Why do some of my resisters only have one black line?"  "I think I got going fast and just used any resister…" ...
28 August & 4 September 2012:
The new school year has started and we've met twice – but we've been having too much fun to break out the cameras! There are about a dozen of us and we welcome Mr. May and Mr. Ullrich back for the year.  We certainly wouldn't be able to have club without them. We've decided to "up the game" this year and give ourselves some goals and dreams.  For this year we're going to make the submarine...
14 July 2012 - Summer Build:
There is always a need to be creative during the summer when everyone is away doing other things. So, two families decided to build a couple Ladder Golf Game sets. Pretty easy build - that means everyone could participate. We'll be playing in the street this summer and using the Ladder Golf Game sets for the GIS carnival later in the fall. Mrs. Wade painting the golf balls. Everyone...
9 May 2012:
Big race day! We had 4 teams and a simple course. The goal was to fly the submarine from the wall, thru the hoop, touch the marker, fly back thru the hoop, and then touch the wall. The contestants were: Sea Perch by Jeremy and Luke… Hydro-Marine by Gwang Hyeon Lee, Haram Kang, and Ye Seong Jeong… Kun-Hee Lim, Jong Pil Shin, and Sunmin son… And finally, Big Daddy, by Ken and...
Maker Carnival China 2012
It is day 4 getting ready for the Maker Carnival China 2012. I'm in Beijing working as staff behind the scenes. Tomorrow is press day for all the printed material and we've been translating, back-translating, transcribing our brains out. The days are long but the Maker culture fits my natural body clock. We start at 11:00am and go until late at night. Here are a couple links to the type of...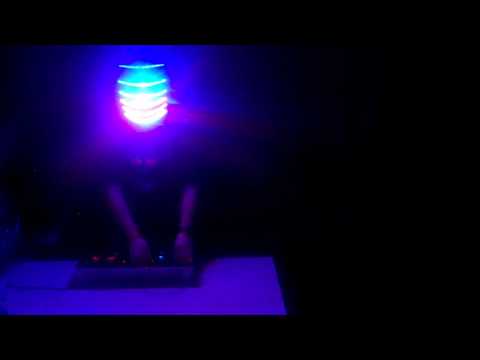 3 April 2012:
Wet-test of two Sea Perch machines! It was a perfect day just before Spring Break. The older guys continue to polish their subs so Jeremy, Nate, and I went out and tried ours. Jeremy spent an evening at our house finishing up his submarine. Notice the cool underwater running lights… Isaac noticed a pulled wire to a thruster motor and repaired it and recast it. All systems are go… ...
Watch
Caleb's Helmet
27 March 2012:
Today we continued to work on the Sea Perch machines. Everyone is down to motors and control boxes. I didn't bring my camera so I didn't get any photos. But we had another camera later in the afternoon to focus on Caleb's Daft Punk inspired helmet that he will be using while he DJs during the dance. This is based on a VU Meter kit that we extended to run 12V LED strips. We got...
20 March 2012:
Oh no! We had to share our lab with students!  The 7th graders were doing a make-up lab and generated a lot of extra energy in the room.  It is always good to be in the larger community. Our creative work focused on getting the electronics working in all the Sea Perch subs.  We're coming down to the end-game and we're going to need to put in some extra time… But, first to show...
13 March 2012:
Last week was so busy and fast moving that I didn't have the opportunity to take any photos. Lots of things happening including a major side project for Grace International School. Here in Thailand we are very much into the pollution season. The pollution can get so bad that it is important to reschedule athletic practices and games. However, the school's PM10 pollution monitor wasn't...
6 March 2012:
3 of 4 Sea Perch frames finished! Jeremy and Isaac started to work on wiring and waterproofing the thruster motors. The older guys needed a solder refresher break before they started on the thrusters. So, they made an official "Learn to Solder Skill Badge Kit".  This cute little robot has three parts - a circuit board, a battery, and a blinking LED.  GREAT JOB GUYS! Then they...
28 February 2012:
Building Sea Perch frames… We have four teams building Sea Perch underwater ROVs.  David, with his original, the adults, Jeremy's team, and two more.  We've got to get names. The great thing about the Sea Perch idea is that it's so easy to modify right from the start. Jeremy is building one to specs.  Three groups are building double sized devices.  David's is modified for additional...
21 February:
Today we got dirty.  The younger guys are building a stock Sea Perch, one team is building a double size model, and one is a custom design. Today's job was to figure out the physical configurations so that we could cut pipe and drill switching holes for the control box. First order of business was to hack up a miter box so we could cut pipe easily, quickly, and straight. We talked about how to...
14 February:
Shopping! If you can't read the post from last week it says we're going to have a MIT Sea Perch underwater ROV race.  We've got at least 4 teams working on it.  One team representing the younger students, two new teams, and David's upgraded ROV team. First thing we had to do was go shopping. We now have motors, switches, propellers, project boxes…
Announcement #1
Technology 클럽 광고 한국학생 두 녀석이와서 우리 광고를 좀 재미있게 해보는 것이 어떠냐고 하더군요. "GIS Technology Club"  예, 아직 뭐 확실히 더 좋은 이름이 떠올르지 않아서 대충 이름지었지요. 아무튼 이번 학년이 끝나기 전에 놀라운 경연대회를 지원하려 합니다. 바로 "잠수함 경주대회"! 우리가 태국에서 구할수 있는 물건으로 잠수함을 만들 수 있다는 것을 보여주고  10, 11 그리고 12 학년 팀들에게, 그리고  우리에게도 도전할 기회가 될것입니다. 승자에게는 모든 영광이, 2등에게는 첫 패자의 아픔이 있겠죠. 공대를 생각하고 있는 사람들이라면 대학 신청서를 낼 때 정말 좋은 인상을 남길 수 있으며 실질적이면서도...
January 17, 24, and 31:
I can't seem to remembered to bring my camera!  We're really missing the influence of the ladies at the Create Space club.  All guys keep makes for a very loud experience. We've pushed ahead and have finished the prototype game show device.  It works perfectly and I've assigned David the job of making the second unit.  We'll give them both to the school and see what...
January 10: First time back after break.
High energy prevails and there is a noticeable difference in who can come to the Create Space club for a while.  The girls are all in the school play and play practice conflicts with our time together.  That's OK, we still need to create things… We were asked to make a quiz show device so that the school can organize some academic competitions among the students.  We took up...
December 15: Special Project
The Art Department was given a donation of an old film process camera so that it could be converted into a camera for documenting art for students at Grace International School.  We at Create Space got involved because the Art Teacher is my wife. The move was a huge project but we also had to build an interface between the special big old film camera and a new computer controllable digital...
December 13:
This is the last club day before the Christmas break.  Everyone is feeling rather festive.  That means it's time to open Santa's sack and see what comes out… Atin wanted to make a Dice Kit since he first saw them a month ago.  He went right at it and didn't look up until he was finished. Ben grabbed a Cylon LED Kit and got into it.  But, nothing worked....
Blast from the Past - March 17:
We dug up some old photos of last year's club.  Everyone was having fun learning to solder with the kits and we were playing around with our Arduino controlled laser pointer…  
Watch
Daniel's Super Bright LED Car Modification
December 6:
Exams are coming and projects are due so we are pressed these days.  But, Mrs. Fisher and Mr. Johnson came to look at the SeaPerch and were suitable impressed.  We had a good time out at the pool watching the sub do its thing.  Kudos to the SeaPerch team!!! Back in the shop Daniel brought in an inexpensive RC car to modify.  After taking it all apart he decided to add super bright LED headlights. ...
November 29:
What a crazy day! Club people had things to do and there were other people all over. Our goal was to continue on the Challenge project but it never really happened. Erica took on the challenge to continue the breadboarding but our parts are just not working as advertised.  We're going to try the discrete logic circuit approach next week. In the end some of the group worked on...
November 22:
We were asked by the school to try to put together a set of Academic Challenge Buzzers. There is no kit for that so we decided that we were going to have to teach some skills. Andrew took on the challenge of teaching the students how to read a schematic and to use a breadboard.  We used a design off the internet using part we can get here.  We didn't do too bad… Jeremy's...
November 15:
Busy day with new kits for many people. Caleb jumped into what will probably be the complex build yet with his sub-woofer amplifier. Alex finished up an LED project after fighting with a manufacturing problem on his circuit board.  Jeremy connected and started to test his intercom.  Several of us started - and finished - the best kit ever.  It is a really simple electronic dice kit that...
November 8:
The photos from today don't show the energy and excitement of the afternoon but energy and excitement were there!  Three activities were happening around the room. The SeaPearch team replaced the small switches with larger, higher current switches.  The wet testing and debugging all the wires took the remainder of the day with pickups carrying beyond our time.  We need a box and a better battery...
November 1:
We really want to start to introduce software to the students. This week I showed off a YouTube video of basic Arduino programming.  It was a bit overwhelming but I think they are starting to get it a bit.  We've got to move to really doing something real beyond the blink test.  We all gathered around and touched, poked, prodded the development board and went thru the process of adding another...
October 18:
As promised we worked on bristlebots!  The younger students went to work cutting toothbrushes and working on soldering wires onto the little wires from the cell phone vibrating motors.  This was very hard to do and we needed to look a bit more at tinning and not cooking our parts – or our fingers.  The market cell phone repair shop that sold me the motors only had 6 motors and one was bad.  I...
October 11:
Continuing to work with the two groups.  The middle schoolers are back on kits.  We kind of are messing around getting ready to dig into the next kit builds.  A couple of the kids are spending time on the internet looking at how set up LED lights.  We also decided we wanted to do something without kits.  We've pretty much decided to make a set of vibrobots.  We spent a lot of time on the internet...
October 6:
Watched Bots High on the free world wide screening day.  Got about 10 students and a good group teachers from the math, science and computer science departments.  We really enjoyed the movie.  The middle schoolers really got into it. We were an official screening site and we all enjoyed the publicity and our day in the sun – at least our day to have an official announcement at...
October 4:
Work on the ROV is slow going as one of the younger members of the group helped so much we had to re-pot the motors.  We also managed to cook the control switches as we learned to solder without a circuit board. No one worked on kits.  One of the boys asked if solder was like lead.  Sure I replied.  Then let's cast something with solder.  A quick trip up to the art room to get some pottery clay...
September 27:
A couple of successes on kits but one failure.  More practice on soldering is needed by everyone.  Thai kits are hard to get working but inexpensive enough not to worry too much about when we cook off the traces. Everyone busy as little bees. Attempted to pot our first SeaPearch motor.  Actually spent most of our time getting the hot plate to work, figuring how to pour wax and waiting for the wax...
September 20:
Lots of internet research and thinking.  The high schoolers cut the PVC pipe for the SeaPearch.
September 13:
Started on SeaPearch.  Working on kits – especially the MiniPOV kit that everyone really likes.
September 6:
Really our first get together.  Passed out some kits and we got to work burning fingers and looking at resisters.